Shan Ling Mirage
Now spayed and re- homed
DOB: 13-01-2003
Tawny Abyssinian
'Mira' Mira is a sweet natured girl and many of my best cats descend from her or her lovely daughter Ch Ankober Sirena who, sadly, was killed on the road.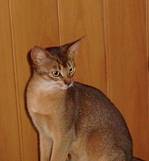 Silver Dble Gr Ch Ankober Maika
DOB : 18-01-2006
Tawny Abyssinian
Maika has beautiful rich colouring and is a very typey queen. She is a bundle of energy and always into something. At her first show as an adult she received a Breeders Award of Merit
Supreme in Show at Metro 2009
Now spayed and happily re-homed

Ch Ankober Tawny Illusion
DOB: 31/1/09
Tawny Abyssinian
Now spayed and re-homed

"Lucy," another daughter of Shan Ling Mirage is following the family tradition and received a Breeders Award of Merit when shown as a kitten. She is a very typey, well coloured girl, with a beautiful nature.